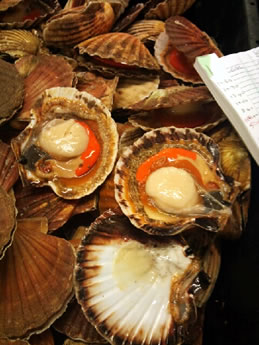 Robert and Kelly Simonetti are the founders of Robert's Fisheries Ltd. Robert's family have been involved in the Torbay fishing industry for generations. The experiences of his childhood, lead Robert to develop his wholesale and retail fishing business in 1988 now situated in Brixham's newly developed multi-million pound fish quay. Robert's Fisheries starting trading in the Markets of London. The success of this venture, provided the foundations to open their retail shop in Paignton, where they stayed for 20 years before relocating to The New Fish Market in Brixham in 2009.
Robert's Fisheries aim to supply the finest quality of fresh Brixham fish and shellfish. Maintaining the highest standards at all times. A core principle of the family business is to support the local fishing industry, with Brixham being our primary port.
Our fantastic seafood restaurant has been opened for 3 years and has gone from strength to strength.
Both Robert and Kelly work in the restaurant throughout the summer months and are on hand to recommend and advise on whats best from the fish market.

The fish wholesale business continues to grow with the Brixham Fish market growing year on year.
The name of our new restaurant is ' SIMPLY FISH ', please check our website for more details as they become available, and we very much hope to see you there!

Fish Filleting, Crab Picking and Scallop Cutting Course
14th May 2012
An evening at Simply Fish Restaurant hosted by Kelly and Robert - £45 for a taster menu plus wine.
The course involves cooking and eating your work! The first course will be on the 14th May. Please book early as the maximum number of people is 16. We will decide on future course dates after this first event.
Phone Roberts Fisheries 01803 854008
Article by Fry Online
12th August 2011
Click here to view an article about Simply Fish by Fry Online.
Fish Town - Sky Atlantic Series
22nd July 2011
Roberts Fisheries (Simply Fish) are on a Sky Atlantic Series called Fish Town. It starts on Friday 22nd July and runs for 10 weeks @8.00 pm.
Simply Fish Restaurant is Now Open!
14th April 2011
Click here for more details
Princess Anne Officially opens New Brixham Fish Quay,
29th March 2011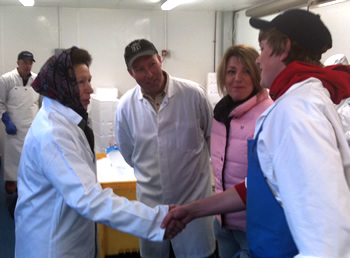 Robert's Fisheries present Princess Anne with a box of fish.
Officials hope the regeneration of the Brixham Fish Quay will help secure the town's future as a vibrant fishing area which will benefit from new investment and jobs.
It's being officially opened by Her Royal Highness, The Princess Royal today.
The 20 million pound award winning development is now complete and includes a new fish market, extended quay space, new offices, fish processing and retail units and a restaurant.
Princess Anne will tour the new facility and meet with local boat owners, employers and employees this morning before unveiling a plaque at the front entrance of the new building.
The multi million pound project was funded by the South West RDA and developed in partnership with Torbay Council, the TDA, community regeneration group Brixham 21 and the Torbay Harbour Authority.

Coming soon!